?>

Directions to the GRB Conference 2012
How to reach the Venue
The Künstlerhaus:
Address: Lenbachplatz 8, 80333 München
Next U-Bahn (subway) stop: Karlsplatz/Stachus (U4, U5)

Local area:

(Courtesy Künstlerhaus)
Larger area with public transport (Original PDF):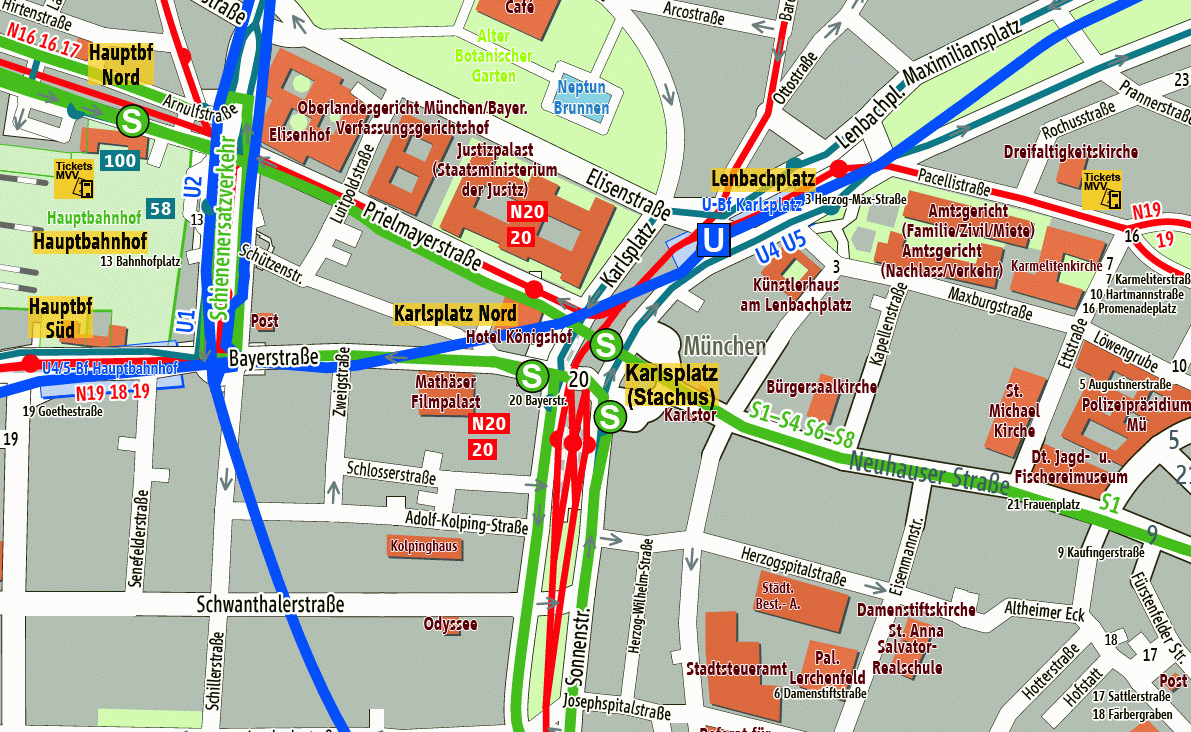 (Courtesy MVV München, Station Info)
Public transport: The public transportation system in Munich is very fast and reliable, albeit perhaps more expensive than other cities. The subway line and final destination of a particular train is written both on the train and on electronic signs on the platforms. The fare system is based primarily on the distance of your journey. All locations within Munich are accessible by public transportation.

Important notes:
Tickets must be validated by inserting the ticket into one of the small blue boxes near the ticket machines. If you are caught riding without a ticket, the fine is 40EUR. Riding with a 'blank', invalidated ticket is considered the same as riding without a ticket. If the ticket is printed with a timestamp+date on it, it is already considered validated.
Tickets are equally valid for U-Bahn, S-Bahn, bus and tram.
A "day" ticket is valid from the time of validation to 06:00 the following day. A day ticket bought at 23:00 Monday will not be valid after 06:00 Tuesday! Similarly, a week ticket is valid until 06:00 the following Monday.
"Partner" tickets are good for up to 5 people.

To/from the airport:
Both the S1 and S8 run once every 20 minutes to/from the airport. Both lines also stop at "Karlsplatz (Stachus)", the stop closest to the conference venue. The travel time from the airport to Karlsplatz (Stachus) is roughly 40 minutes on either line.


Since the airport is located quite far from Munich, extra fare must be paid to legally travel in and our of Munich. There are several options here:
Einzelfahrkarte - 4 Zonen: 10.00EUR, one way ticket valid to/from the airport
Single-Tageskarte - Gesamtnetz: 10.80EUR, ticket valid all day to/from the airport or anywhere else in Munich
Partner-Tageskarte - Gesamtnetz: 19.60EUR. ticket valid all day to/from the airport or anywhere else in Munich, valid for up to 5 people

Daily travel:
Munich is divided into 4 zones. The "Innenraum" is the first zone, and is considered to be the city center. Depending on how often one plans on using the public transportation, there are a multitude of options. Here are a few of the most commonly used ones:
Einzelfahrkarte - 1 Zone: 2.50EUR. One way trip within one zone.
Streifenkarte: 12.00EUR. You get 10 stripes with this card. You must validate 2 stripes per journey per person within the Innenraum, or 1 stripe if you only ride 2 stops.
Single/Partner Tageskarte - Innenraum: 5.40EUR/9.80EUR) to travel all day in the Innenraum.



Map of the S and U-Bahn system:

Map of the Innenraum (inner part of Munich), taken from http://www.mvv-muenchen.de/: (high-resolution PDF)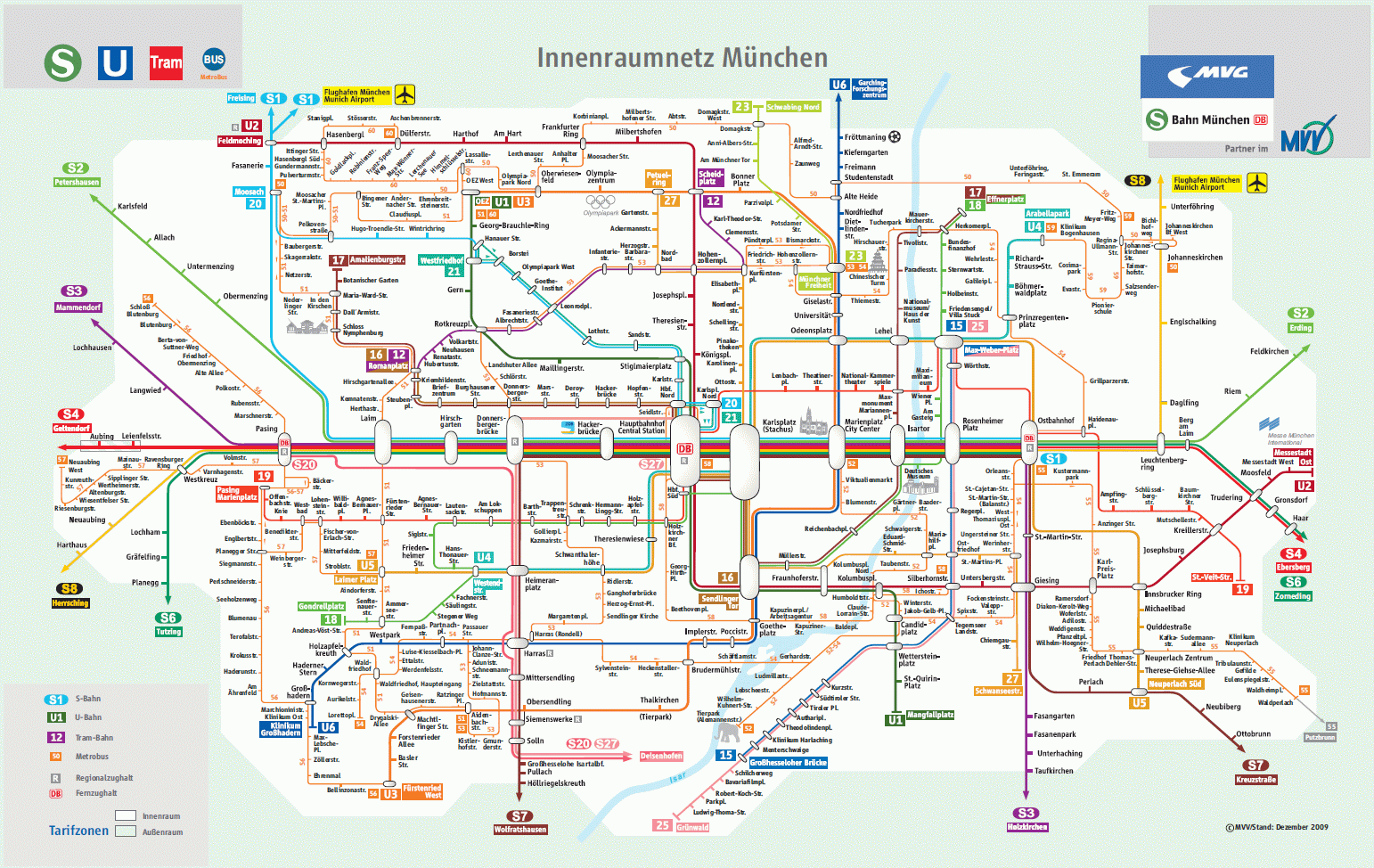 How to reach the Augustiner-Keller (Conference Dinner)

The GRB2012 Conference Dinner will be in the famous Augustiner-Keller, north-west of the main train station. It is 1.4 km from the conference venue, a ~18 min walk. Alternatively take tram 17 at Lenbachplatz.


(Courtesy Google Maps)