?>

Tourism with the GRB Conference 2012
Munich
Munich (founded 1158) is the capital of the German state of Bavaria and Germany's third largest city. It is located in south-eastern Germany on the river Isar, north of the Alps and near the border to Austria. Information about the city and sightseeing destinations in Munich can be found at www.munich.de. Located just 80 km north of the Alps, Munich also offers various opportunities for sport activities in the mountains.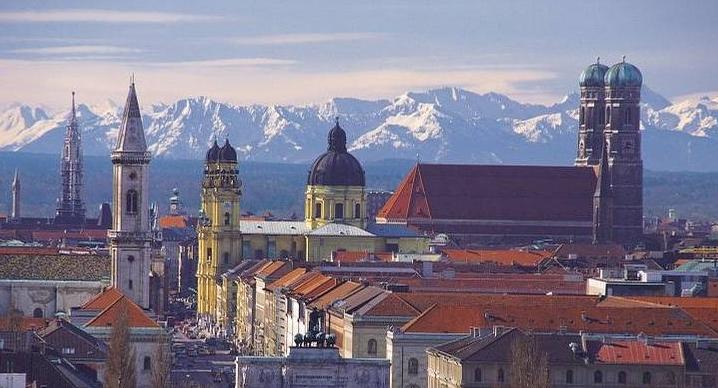 (© Picture courtesy of munich-business-school.de).


The following is a small, admittedly subjective selection of options:
Attractions within 100 km (1 hr travel)
Special events in Munich
Sun, May 6: Auer Dult: For friends of Munich's Oktoberfest this is a must: its the spring counterpart of the famous 2-week event in autumn. If closes on May 6, and takes place at Mariahilfplatz (south of the Deutsches Musuem, on the other side of the river Isar). See the May Dult page for more details, including a map. Opening hours are 10:00 a.m. to 8:00 p.m.
Tue, May 8, 20:00: Gasteig, Black Box: Special concert organized for GRB2012 participants (a flyer is in your conference package). Tickets available either at Gasteig starting 1 hr before the start of the concert, or pre-booking at MuenchenTicket. The concert is open for the public, so may sell out quickly - we've made NO reservations for you.
Golden Dragons: 25 textile master pieces from China and Tibet, about 500 yrs old, from a private collection; never shown before: Special exhibition in the Völkerkundemuseum (Munich State Museum of Ethnology; 2nd largest in Germany after Berlin).
Open: Tuesday - Sunday 9.30 a.m. - 5.15 p.m.
Adults € 6,00/ Reduced € 5,00/ on Sundays € 1,00
80538 München, Maximilianstr. 42
Public Transport:


Underground: U4 and U5 to Lehel
City Train (S-Bahn) to Isartor
Tram 18 and 19 to Maxmonument
Somewhat unusual restaurants in Munich
Restaurant Arabesk: Kaulbachstr. 86
Libanese cousine. Don't miss the arabesks in the basement room!
Restaurants Zum blinden Engel or Vinorant Alter Hof: Dinner in the Dark. Concentrate on your taste, while you don't see what you eat. Best with your partner.
Revolving Restaurant on the Olympia Tower, 181 m above Munich. Best on a cloudless day/night.
Updated 4 August 2020
Imprint and Disclaimer