?>

Venue of the GRB Conference 2012

The GRB 2012 Conference as well as the Welcome Reception on Sunday evening will take place in the

Münchner Künstlerhaus

" (Munich house of artists) right in the heart of Munich. Street address: Lenbachplatz 8, D-80333 München. The entrace to Künstlerhaus is around the corner in Maxburgstraße.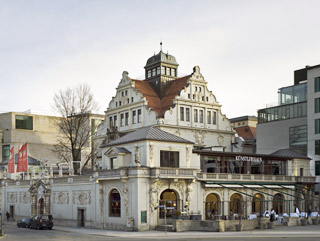 The building of the "
Münchner Künstlerhaus
" and its culture of festivities has become a part of the history of Munich. Conceived as a place of convergence between culture and society, in its outer appearance the House of Artists is still living proof of the style and society models of its origin in time.
In 1893, Prinzregent Luitpold set the foundation stone of the building created by architect Gabriel von Seidl, and in 1900 he personally opened the house to the public. The house witnessed glorious decades of festivities, mask balls and banquets, before on 14 July 1944 the house burned down following a bombing raid on Munich.
After the war the US troops requisitioned the house, returning its operation to the House of Artists Association in 1954. Following its reconstruction, the Künstlerhaus was opened again to the public by Duke Albrecht of Bavaria and Mayor Jochen Vogel on 1 October 1961.
A century has gone by, and the development and management of the Künstlerhaus had to face a changed public perception and outlook on art and society, and therefore a different relationship between artist and society. Never neglecting its motto, – "Nobis et Amicis" ("for ourselves and our friends"), the Künstlerhaus has broadened its approach and appeal. Restricted to an elite of (often nobilitated) artists and patrons in the founding years, its wide variety of congresses, festivities, exhibitions attracts the citizens of Munich to mingle with politicians, scientists and artists today.