Reinhard Genzel becomes member of the order "pour le mérite"
On 1 June 2014, the chancellor of the order "pour le mérite for sciences and arts", Prof Christiane Nüsslein-Volhard, presented MPE director Reinhard Genzel officially with the golden medal of the order in the presence of German federal president Joachim Gauck, who is the patron of the order. The ceremony took place during the spring meeting of the order in Berlin. The chapter of the order had voted for Genzel already in autumn 2013 during its meeting in Regensburg.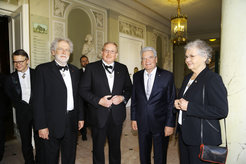 The order Pour le mérite war originally founded by King Frederick the Great in 1742. The "peace class" of the order was then set up in 1842 by King Frederick William IV of Prussia, upon the advice of Alexander von Humboldt, to include both domestic and foreign persons "for contributions to the arts and sciences". It is – according to its statutes – an association across disciplines of scientists and artist "who through widespread recognition for their contributions to science and art have made an eminent name for themselves". This concept of a "free association of outstanding savants and artists" dates back to the 1920s, when the order had to reform anew after the end of the First World War and the Prussian empire.
The golden medal of the Order displays the Prussian eagle, the crowned initials of Frederick the Great repeated eightfold, and, against an enamelled blue background, the designation "Pour le mérite" ("for merit"). Since 1842 the medal has been worn in this form, at any one time, by (according to the current statutes) a maximum of forty German and the same number of non-German men and women; scientists, scholars, and artists are honoured in approximately equal numbers. The golden medal of a late member is passed on; previous owners were Max von Laue und Carl Friedrich von Weizsäcker.
Current members include the authors Umberto Eco and Martin Walser, director Wim Wenders, physicists Theodor W. Hänsch, geneticist Svante Pääbo, as well as the biologist Christiane Nüsslein-Volhard.