Supermassive Black Hole Evolution
In the past decade, studies of the local Universe have established the presence of supermassive black holes (SMBH) in the nuclei of virtually all galaxies with a bulge/spheroidal component, dramatically changing our perception of this class of objects, and implying a clear relationship between the growth of SMBH and that of the galaxy. Because the cosmological growth of SMBHs is mostly due to accretion of matter during active phases and the energy released in the process of accretion can be higher than the total binding energy of a massive galaxy, active galactic nuclei (AGN) can in principle have a profound effect on the galaxy formation and evolution processes. X-ray emission offers a unique signpost of accretion of matter onto the supermassive black holes in AGN, being able to penetrate through obscuring material and overcome light from stellar processes. Investigating whether and how nuclear black holes influence their host galaxies, and vice versa, has been and remains to be a major focus in the activity of the MPE HE Group.
From X-ray surveys to AGN demographics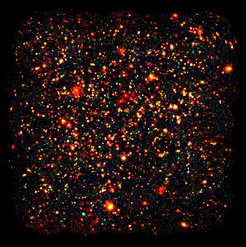 It is well known that, for the study of AGN, X-rays have merits over other selection techniques, primarily a uniform and quantifiable selection function at all redshifts, relatively little attenuation by absorbing material along the line of sight, and minimal host galaxy light dilution. The MPE HE group has a leading role in the science exploitation of nearly all current high-profile extragalactic surveys carried out by major high energy missions, including Chandra, XMM-Newton, Swift and Integral. Members of the group held the leadership in the XMM-COSMOS survey (see Fig. 1), the XMM deep observation of the Lockman Hole, the Chandra AEGIS-wide and AEGIS-deep programmes. The group also has heavy involvements in the Chandra Deep Field South and Chandra COSMOS projects. We also use wide area serendipitous surveys such as XMM-SDSS and 2XMM, the latter via our involvement in the XMM Science Survey Centre. For the analysis and science exploitation of those observations the group is developing novel methods with emphasis on the Bayesian approach, e.g. for the detection of sources and the characterisation of their properties, the construction of sensitivity maps, the association of X-ray sources with counterparts at other wavelenghts. The MPE HE group is also launching the ambitious eROSITA X-ray mission, which will map the entire sky at energies 0.5-10 keV and will yield an unprecedented sample of around 3 million AGN. This will be a uniquely resource for the study of AGN evolution and demographics, but also in terms of discovery space, e.g. finding rare or new classes of sources.