VIP visit during Girls' Day
Minister Müller visits MPE and talks with girls
As in previous years, the Max Planck Institute for Extraterrestrial Physics (MPE) invited 40 girls to the annual Girls' Day. On this occasion, the Bavarian minister for work and family Emilia Müller visited the Institute and accompanied the girls for some parts of the programme. The interesting questions by the young visitors demonstrated that also this year the Girls' Day at MPE was a great success.
For many years, the institute has been participating in the annual Girls' Day event. On this day, girls have the opportunity to learn more about apprenticeships and studies in the fields of engineering, IT, crafts and science.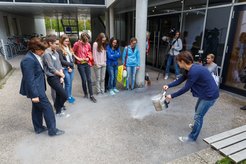 In addition to an overview of our understanding of the universe, different stations offered the girls insights into the daily work of a researcher. Among other things, the girls learned how to put together a colour image from images in different filters, how their bodies look imaged by their own heat radiation, or experiment with liquid nitrogen, which is normally used for the cooling of sensitive astronomical instruments. Astronomical knowledge was called for in the Astro Quiz, which the girls were able to answer with the help of (not only female) experts. The whole time, the girls were keen on participating in the programme – sometimes even into the breaks – and even the film crews, who accompanied the Minister's visit, did not disturb them.
Minister Müller talked with many girls individually and at the end of the visit addressed all young visitors. According to the Minister, girls usually perform better at school and all doors are open to them. However, it is important that the girls should not restricted by old role models. Every one of them should decide on a career solely because of their own interests and abilities and rely on their strengths. Events such as the Girls' Day therefore continue to be very important to break up existing stereotypes and show the girls a wide range of prospects.