Dr. Rodrigo Herrera-Camus to lead Partner Group in Chile
A new Partner Group has been established between the Max Planck Institute for Extraterrestrial Physics (MPE) and the Department of Astronomy at the Universidad de Concepción in Chile. The focus of the group is the "baryonic cycle in galaxies" and head of the group is Dr. Rodrigo Herrera-Camus, who was postdoc at MPE from 2015 to 2019.
"ALMA is generating a revolution in our understanding of the properties of molecular gas in galaxies, especially those that we can observe when the universe was not yet one or two billion years old", says Dr. Rodrigo Herrera-Camus. "For example, one of the projects we are going to develop together concentrates on the kinematic properties of galaxies when the universe was only one billion years old. This will allow us to learn about their structures (baryonic and dark matter) and how advanced they are in their formation process."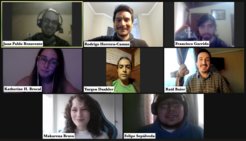 The early evolution of galaxies is also an important research topic for the Infrared Group at MPE, led by Prof. Reinhard Genzel, where Dr. Rodrigo Herrera-Camus did his postdoc from 2015 to 2019. At the end of his stay in Germany, he joined the Astronomy Department of the Universidad de Concepción in southern Chile. With the support of MPE, Dr. Rodrigo Herrera-Camus successfully applied to the Max Planck Society to create a Partner Group focused on Astronomy at the University of Concepción.
One of the aims of this work is to use the Partner Group to establish an effective collaboration network between the Max Planck Society and the astronomical community of Chile. "Regarding the scientific aspect, we hope to make a significant contribution to the field of galaxy evolution. From an academic point of view, we would like to promote the exchange of experiences, knowledge, and ideas for future projects. For this purpose, there will be regular visits and remote meetings between students, postdocs, and professors from the two continents", explains Dr. Rodrigo Herrera-Camus.
That way, professors and students of the Department of Astronomy at the Universidad de Concepción who conduct research in galaxy astrophysics can join and take advantage of the opportunities for exchange and collaboration offered by this program. "The goal is that five years from now, we can have projects and publications involving students and professors from both institutions", Dr. Rodrigo Herrera-Camus adds.
At 23 of more than 70 groups worldwide, Latin America is a focus of Max Planck Partner Groups. Partner Groups can be set up with an institute abroad provided that, following a research residency at a Max Planck Institute, outstanding early career researchers (postdocs) return to a high-capacity, well-equipped laboratory in their home country and carry out further research on a subject that is also of interest to their previous host Max Planck Institute.