High-Energy Emission of Compact Objects
The most compact and extreme objects in the Universe, e.g.,  black holes and neutron stars, give rise to some of the most violent and energetic phenomena known to mankind. Research in the High-Energy Group of the MPE specifically focusses on a few key aspects, such as accretion, strong gravity, and gamma-ray bursts.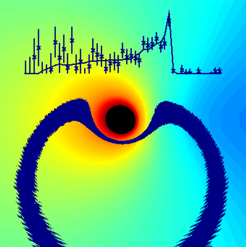 Gamma-ray Bursts
Gamma-ray bursts (GRBs) are flashes of high-energy photons that mark the most luminous explosions known to Mankind. During their brief moments of existence, the equivalent of the mass of a star like the sun is turned into pure energy, allowing GRBs to outshine the entire Universe. GRBs fall into two groups, one with short (<2s) gamma-ray emission likely associated with the merger of two compact stellar remnants (two neutron stars, or a black hole and a neutron star), and the other with longer (>2s up to tens of minutes) gamma-ray emission demonstrated to be the signposts of the deaths of some of the most massive stars.

Scientists of the MPE high-energy group study GRBs to address a broad range of questions:
There is a general understanding that the prompt gamma-ray emission is produced in shocks resulting from the collisions of shells within an ultra-relativistic jet. What is less clear, however, is the exact physical mechanism (e.g., non-thermal or thermal). High-energy group scientists study this with data from the Fermi satellite.

Following the prompt gamma-ray emission, in nearly all cases an optical afterglow can be found. This is produced when the ultra-relativistic outflow interacts with the interstellar medium surrounding the GRB progenitor. Observations at optical and near-infrared wavelengths (e.g., with GROND at the 2.2m telescope in La Silla, or with spectrographs at the 8m VLT telescopes) are used to study the conditions in the jet (geometry, acceleration) and the structure and composition of the interstellar medium. This can tell us where and how GRBs and their progenitors are formed.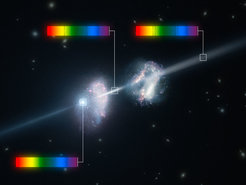 Their staggering luminosity allows us to detect GRBs from the edge of the Universe, or in other terms, from a time when our Universe was infant. Indeed GRBs are in a tight race with deep and expensive galaxy surveys for finding the most distant objects known. Given their association with the death of massive stars, GRBs are natural probes of the conditions in the first galaxies and can tell us under which conditions and where the first stars were formed. With this goal in mind, high-energy group scientist use observations of the GRB host galaxies (e.g., from GROND, VLT, or in the mid-infrared from the Herschel satellite) in order to understand what GRBs can teach us about the star formation evolution in the Universe.