Test Facility
The developed in-house and manufactured parts, assemblies, experiments, spectrometer, telescopes etc. can be tested in the test laboratory of the Institute. They can be tested on vibration, thermal loads and under thermal vacuum conditions.
The aim is to simulate loads occurring in reality, such as loads during take-off, during operation in the orbit or during transportation.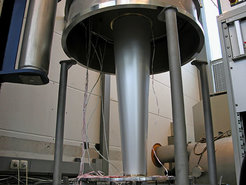 During the test the specimens are controlled as good as possible by corresponding sensors, control and data acquisition systems and safety facilities.